Services
0ur services include project management, survey layout, project design and fold analysis, line clearing and drilling services.
Project Management

Our field managers have experience in all stages of a seismic program. We are able to equip field personnel to monitor and control all stages of an exploration program. We can ensure clients a high quality product while maintaining a strict budget, and even help to reduce costs. From design to layout and to recording, Northeast Geophysical can handle any project.
Survey Layout

Specializing in G.P.S. survey processes, Northeast Geophysical has the ability to provide a sub-meter accurate surveys in any environment. We use the most advanced G.P.S. systems from Leica to provide the best performance which we demand. We utilize the latest technology such as LiDAR to ensure accurate under-canopy surveys. Our field surveyors use industry recommended, highly visible marking tapes to mark shot hole locations, receiver station locations and access around seismic programs. With the survey layout, we provide an in field G.I.S. mapping office which produces high quality maps of any size tailored to any specifications.
G.I.S. Mapping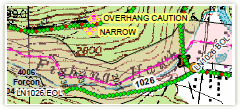 We use the newest technology and software to design maps that are easy to read and contain all the information required depending on your needs. Northeast Geophysical has a large database of geographical information which we use to develop base maps. We use the latest survey technology to acquire precise locations which we plot on our maps, develop boundaries, buffers, hazards or any other item which needs to be on a map. We customize our maps for permit agents, line crews, drill crews or client representatives. We are able to deliver daily updates, with same day surveyed locations plotted and ready for field use.
Fold Analysis & Scripts

Northeast Geophysical has the latest fold analysis software from DirectAid which enables up to design and help our clients obtain maximum fold coverage in those hard to obtain areas. We constantly check our survey layout with our fold analysis software and refer to our clients guidelines and geophysicists requests. Northeast Geophysical can also design recording scripts for the most efficient and accurate recording record.
Line Clearing

Northeast Geophysical has the services to complete all types of line clearing. We have experienced cat pushes who can oversee all of the line cutting requirements on a program. We also have hand cutting crews and mulchers available to perform the line cutting. All of our equipment and crews meet and or exceed the safety requirements in the areas we work.
Drilling Services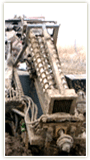 Northeast Geophysical has the experience to supervise drill crews. We have been in the industry long enough and know which companies we trust to complete seismic drilling operations on large or small seismic programs. We are able to refer clients to companies who we would be willing to hire ourselves. We can also be the prime drilling contractor and bring in reliable contractors to complete the job under our safety guidelines and supervision.